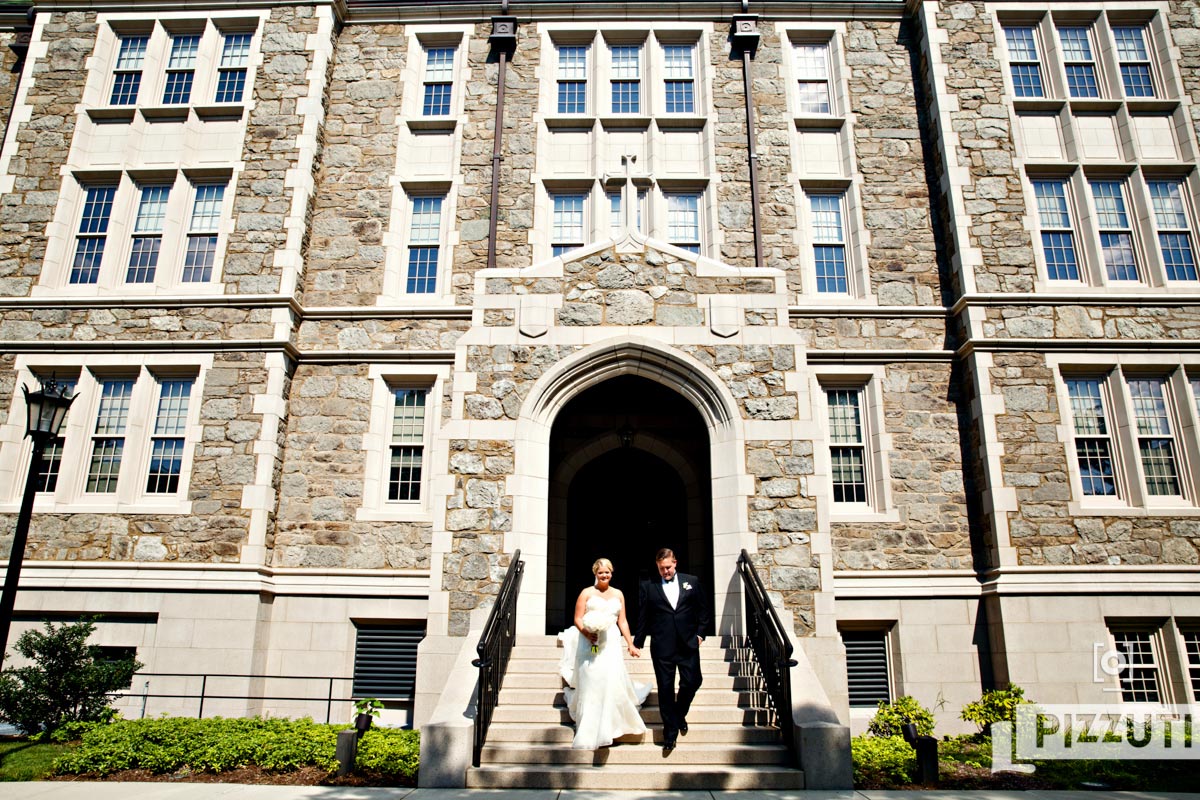 Jamie and Jason planned a fantastic August, BC – Hyatt Boston Harbor wedding!
Have you ever photographed a wedding and hoped that both of the families would invite you to their holiday party? Well that was the case with the Richardson-Brown wedding. It would be hard pressed to find another wedding that brought us into the day and treated us like family from start to finish. Ashley and I spent 12.5 hours with this crew and might have stayed for the after-party but we would have been the ones sleeping in the corner.
Ashley met the bride, Jamie, and her entourage at the Hyatt Boston Harbor for getting ready photos, while I met the groom in Southie at their apartment for some groomsmen shenanigans. After that is was on to the first look on campus at Boston College. What better place for a first look and portraits, huh?
This wedding was certainly one for the books and even a slight hurdle thrown at us by the church couldn't even ruin the day. Both Ashley and I had gone in thinking that we'd be able to photograph the ceremony just discreetly with no flash. Well, upon arrival we were told "no photographs at all." Uuuuuuuuum, okaaaaaaaaaay? That really put us in a difficult situation, but we are pros and were able to sneak a few photographs from the back. Some congregations view wedding photography as a distraction to the religious ceremony, and although it sucks for us, we understand. Honestly, photographers are not the most important people at the wedding so we'd never put ourselves in a position to take away from the ceremony.
Once we were through the ceremony, it was back to the Hyatt for some portraits and reception. Everyone wants that beautiful, city skyline backdrop that the Hyatt offers and we had the perfect sky for it on this night. A storm was rolling in but from where we were it looked like we were safe… for a while. It did start to rain a bit after we finished up portraits but we didn't get it as bad as they did west of us. It was awesome hearing the thunder and seeing the lighting strike miles away.
Jamie and Jason really looked forward to the party and they were not disappointed! The band, SOHO got everyone going early and kept them on the dance floor all night. There were points in the night that I couldn't even get on the dance floor to shoot because everyone and I mean everyone was out there. It was a pretty amazing day all around!
We literally could not be more happy for Jamie and Jason and their families! I hope we get a chance to see them all again in the future!
Here's some of our favorite photos…