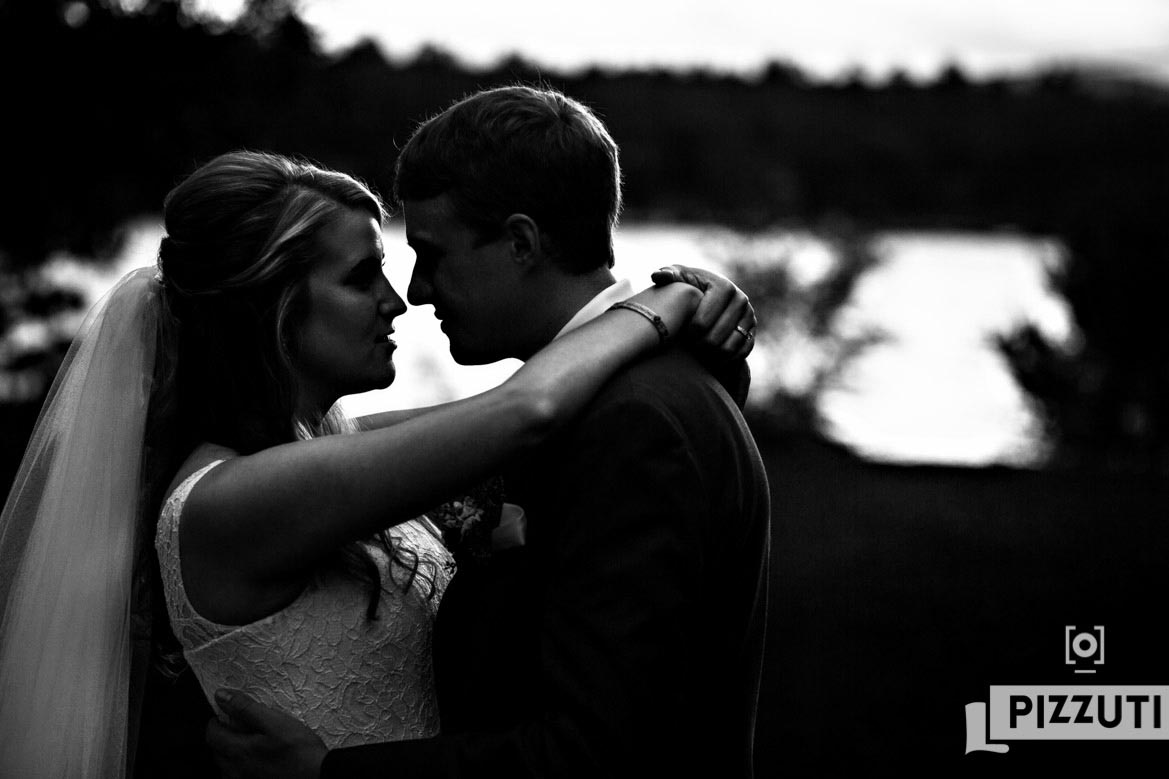 Any bride and groom that enjoys digging through an architectural salvage yard to get inspiration for wedding DIY projects is going to be tops on our list. Ashley designed and built a lot of the decorations for the reception when we got married so of course we can relate to DIY projects. It's all part of the fun, right? We're still using the birch logs, cafe lights, bird cages and vintage books that we used as wedding decor; they've become part of our loft decor; it's part of our family history. Ashley and I will always have the humorous memory of our friend Shawn cutting down the right size birch trees from his backyard/forest. Someone really has to have a vision to ask a friend to whip out the ol' chainsaw and trudge through forest just so she can make a killer dessert bar station. Like us, Kaleigh and Matt will always have the memories of salvaging reclaimed doors and digging through antique shops from New England to Canada. Their passion and hardwork helped make their wedding unlike any other. They transformed the barn at The Inn on Newfound Lake into their wedding, and it was perfect.
Matt and Kaleigh planned a beautiful rustic New Hampshire wedding at the Inn on Newfound Lake. It was early in September and Ashley and I had just hit overdrive in the season. The weather was iffy so we decided to get up to the venue a bit early and check it out. Having never been up there before and being a little bit anxious and really having to find a rest room, I soon noticed the bone chilling blue lights behind me… here comes a speeding ticket. Maybe it was my politeness or maybe because I played the "golly-gee-shucks-officer, I'm lost and late for a wedding and I'm gonna get fired", but he gave me a warning. That was close.
Once we got started shooting, the clouds were coming in pretty good, but everyone had their chins up and were still planning on an outdoor ceremony. But as soon as I arrived to the barn with the groom and groomsmen the torrential downpours started. It was an hour before the ceremony. Still, no one was complaining. The staff moved everything indoors, the officiant posted up right in front of the fire place and we were good to go. And just as the ceremony started, the clouds parted and the sun came out and poured through a window behind spot of the ceremony. Everyone sighed with relief that it stopped raining but Ashley and I looked at each other with annoyance. You see, the light was coming in at such an angle that it blew the highlights right out of her veil. If the ceremony started just an hour earlier, we would have been outside under clouds, which would have been fine but a bit boring. An hour later and the rain would have passed. Instead we were indoors, with intense sunlight coming in illuminating only a small part of the barn, and completely blowing out the highlights in the brides dress. Tough light, nothing we can do about it, except be cranky later. We were happy enough that we'd have an opportunity to take portraits outside after the ceremony.
Right after a storm is one of our favorite times to shoot outdoors. The light is unpredictable, but if it's late in the day it can be stunning. We were lucky to have Kaleigh and Matt's attention for as long as we did, because we made some great portraits that day. However, I don't think it compares to how much fun was had at this reception. The bride and groom wanted a party and they were still shaking the barn after we left.
This was a great wedding and below you'll find some of our favorite images:
The NextGEN gallery with ID/slug: 231 does not exist or is empty.
Wedding Professionals:
Venue and Catering: Inn on Newfound Lake
Hair and MUA: TEAL
DJ: Cris Culkeen
Brides Dress: Over the Rainbow Boutique
Floral: Lotus Floral Design